Since Tangelo 5.2, it is now possible for administrators to directly manage the users who have access to the Tangelo application. Tangelo now has a user management module built in.
To access it, use the hamburger menu on the top right of your screen while logged into Tangelo.
Then choose User management.
Note: if you don't have this option, then you are not an administrator, check with your administrator user / key user.

This brings you in the user management:

Adding users
To add users, click the

button on the right side of the screen, a popup will show now prompting you for information about the new users.
If you have multiple users, just fill in the email addresses per line, as well as the group memberships (if there are any) and the profile they should have:
Standard
Reviewer
Administrator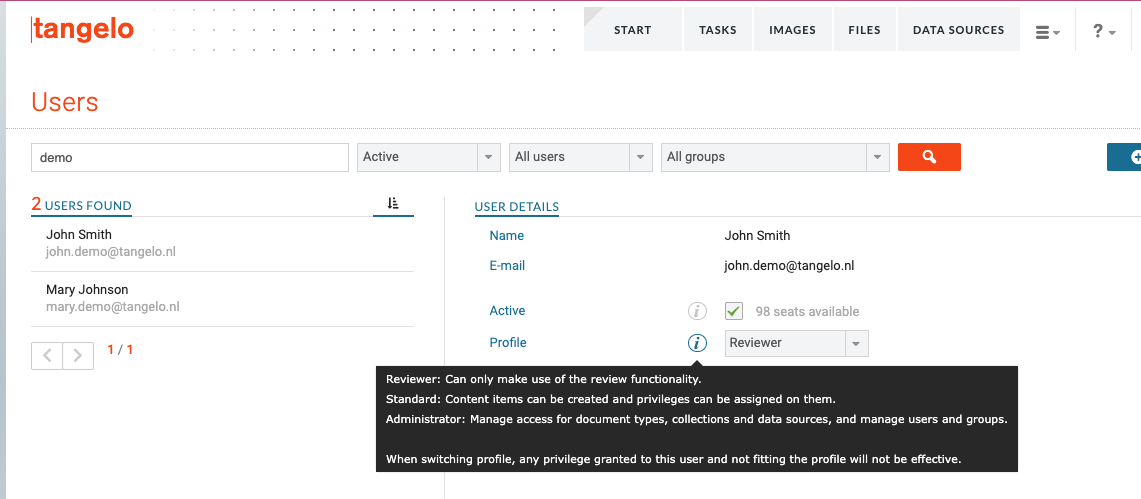 The real name can be added on a later time.
As soon as you have clicked the plus button the users will be added to Tangelo and an activation mail is send out to the user involved. The account will show a clock icon behind their name in the user list, until the user activates the account using the mail link.

Next to that The Tangelo Support Desk will activate two-factor authentication (2FA) for the new user account and a 2FA activation email with instructions is sent.
Please note that this process is manual and will only be done during business hours.
Manage single user
As soon as you click on a user, you will see the details of that user in the middle of your screen.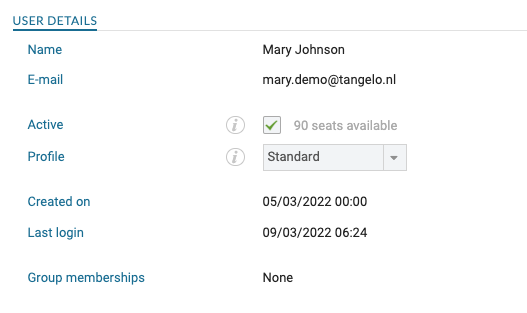 Here you can also see how many seats in the license are still open and you can set a user active / not active, change the name / email address and add or remove group memberships.
When adding a user, only the email address can be added. During this step you can add the real name to the user.
Removing a user
Users can not be removed in Tangelo. They can only be set inactive. To do so, select a user and click on the checkmark to activate of unactivate a user. This directly influences the number of available seats within your total license.

License count
The Tangelo license count is determined by the number of active Standard and Administrator accounts. Reviewer accounts are not taken into account for the license number calculation.